Invited Speakers
Dr. Carolina Morelli
Professor of Federal University of Pernambuco (Brazil). PhD in Materials Science for Grenoble Institute of Technology (France) and for the Federal University of São Carlos (Brazil)
---
Speech Title:
Nanocomposites of PBAT and cellulose nanocrystals
Abstract: Polybutylene adipate-co-terephthalate (PBAT) is a biodegradable polymer which properties could be improved with the incorporation of renewable and biodegradable reinforcements as cellulose nanocrystals (CNC). Nonetheless, CNC high polarity difficults its dispersion and compatibility with less polar polymers. Superficial chemical modifications in CNC aim to circumvent this problem. This presentation intend to present results regarding CNC grafted with an aliphatic and an aromatic isocyanate and incorporated in PBAT matrix through solvent casting and melt extrusion. The treated-CNC reinforced composites displayed improved mechanical properties, with an increase up to 120% and 40% in elastic modulus and tensile strength, respectively. Rheological analysis confirmed the achievement of a percolated network in the composite with 10wt% of the treated-CNC. The best results were obtained with CNC grafted with the aromatic isocyanate, probably due to the π-π interactions between the phenyl rings grafted onto the CNC molecules and the aromatic rings of the polymeric chain, as indicated by Raman spectroscopy.
---
Dr. Alina Vladescu
Associate Professor, Romanian Material Science Engineer
Scientist Working on Thin Film Deposition and Characterization for Applications Ranging from Biomaterials to Cutting Tools
---
Speech Title:
Sputtered hydroxyapatite coatings used in medicine
Abstract: Implants made of metallic biomaterials have been used for over 100 years and it will continue to be central to medical applications because of their unique properties compared to those of other classes of materials. However, a major worry with metallic materials is their susceptibility to corrosion, wear and low osseointegration capabilities. Thus, the common solution was to coat the surface of metallic implants by biocompatible coatings such as hydroxyapatite. The coating followed only for a very thin layer and it did not affect the original mechanical properties of the metallic biomaterials. Usually, the hydroxyapatite should offer sufficient mechanical strength until the completion of the healing process. Hydroxyapatite possesses many advantages as biomaterials with outstanding osseoconductivity and bioactivity, and faster integration with host bone tissues. Thus, the aim of the present paper is the show a part of the group results about the preparation of hydroxyapatite coatings using RF magnetron sputtering. We have also proposed to improve the mechanical properties by the SiC addition and antibacterial abilities by Ag addition into hydroxyapatite matrix.
---
Dr. Cengiz KAYA
Director, Research and Graduate Policies Directorate, Sabancı University, Turkey
Professor, Faculty of Engineering and Natural Sciences, Sabancı University, Turkey
---
Speech Title:
Low Temperature Synthesis of Nuclear Grade Boron Carbide (B4C) Structure and Its Multilayer Polymer Based Composites for Neutron Shielding
---
Dr. Yulin Li
Professor, East China University of Science and Technology, China
Visiting Professor, University of Madeira, Portugal
---
Speech Title:
---
Dr. Per A. Löthman
Foviatech GmbH, Hamburg, Germany
---
Speech Title:
Multiscale Material's Self-assembly
Abstract: Multiscale materials are ubiquitous in Nature and Engineering, Sometimes they may be hierarchial, possibly self-similar, displaying various degrees of organisation at different scales. Self-assembly is a truly multiscale phenomenon and it plays a role in so seemingly unrelated fields such as buildings and architecture as well as in nanotechnology, protein folding and plant leave's surface components (waxes) serving as a protection against plant pathogens, and it serves as a promising method for manufacture of novel advanced materials. Its fundamentals have been not entirely understood or implemented into materials synthesis. This gap may be filled by analogous experimentation at the macroscopic level. Self-assembly has been studied successfully using macroscopic magnetic self-assembly which can give insight into such seemingly unrelated aspects such as DNA-function as well as how to self-assemble true 3D materials. It reveals the underlying mechanisms of Self-assembly which can be exploited also at the micro- and the nanoscopic level. Herewith micro-, nano and macroscopic materials can be self-assembled and material's self-assembly as a phenomenon can be investigated. The carbon nanomaterial Graphene can be self-assembled into various structures enabling its usage in several applications showing its feasability as future high-tech material. It has astonishing properties and is a promising candidate for flexible sensors and energy storage applications. To fully appreciate the properties of graphene and other nanomaterials and implement into applications it is necessary to understand the underlying principles of self-assembly. The understanding coming from macroscopic self-assembly in several dimensions may be combined with experiments at the nano- as well as microlevel in order to achieve successful self-assembly of advanced graphene based nanomaterials. We need multiscale Self-assembly for a variety of future advanced materials.

Keywords: Multiscale Material's Self-assembly, Graphene, Sensors
---
Dr. Songqi Ma
Professor, Ningbo Institute of Materials Technology and Engineering, Chinese Academy of Sciences, China
---
Speech Title:
---
Dr. Junqiao Ding
Professor, Changchun Institute of Applied Chemistry, Chinese Academy of Sciences, P. R. China
---
Speech Title:
Thermally activated delayed fluorescence polymers for high-performance OLEDs
---
Dr. Jianmin Yang
Associate Professor, College of Biological Science and Engineering, Fuzhou University, China
---
Speech Title:
---
Dr. Zhihuan Weng
Associate Professor, Department of Polymer Science & Engineering, Dalian University of Technology, China
---
Speech Title:
---
Dr. Hu Jiyong
Professor, College of Textiles, Donghua University, China
---
Speech Title:
---
Dr. Xueling Yao
Professor, School of Electrical Engineering, Laboratory of High Voltage and High Current Testing Technology and Equipment, Xi'an Jiaotong University, China
---
Speech Title:
---
Dr. Pallav Gupta
Assistant Professor, Department of Mechanical Engineering, Amity School of Engineering and Technology, Amity University Uttar Pradesh, India
---
Speech Title:
Exploration of New Applications of Metal Matrix Composites/Nanocomposites Manufactured by Stir Casting and Powder Metallurgy
Abstract: New technology in current global world has propelled the researcher's to look for new and advanced class of materials. Metal Matrix Composite (MMC) is such a new class of material in which ductile metallic matrix is added with hard ceramic reinforcement. Moreover, advancement in MMCs has led to the development of Metal Matrix Nanocomposites (MMNCs) which has the particle size of final product less than 100 nm. Among various processing techniques, stir casting and powder metallurgy are the two major routes for fabricating large scale MMC/MMNC products. The present talk will focus on the fabrication and characterization of metal matrix composites/nanocomposites using Aluminium, Copper and Iron as the matrix material with the use of wide range of ceramic reinforcements. Aluminium and Copper based composites were fabricated using Stir Casting whereas Iron based nanocomposites were fabricated using Powder Metallurgy. Property evaluation has been done in respect of structural, mechanical and corrosion behavior for the fabricated specimens. Apart from this an attempt has also been made to use the metal matrix composite as an efficient coating material. It is expected that developed MMCs/MMNCs will explore a new era for wide range of engineering applications.

Keywords: Metal Matrix Composites/Nanocomposites; Stir Casting; Powder Metallurgy; Coatings; Property Evaluation.

---
Dr. Alak Kumar Patra
Associate Professor, Advanced Composite Research Centre, SRM Institute of Science and Technology (Erstwhile SRM University), India
---
Speech Title:
Investigation on laminated polymer composite reinforced with unidirectional carbon fiber prepreg.
Abstract: Damage characteristics of polymer composite layer reinforced with unidirectional carbon prepreg tape is analysed under different tensile loading conditions. Modelling and simulation are performed using ABAQUS (standard) software. One end of the specimen is fixed and the other end is free where tensile loads are applied. The displacement profile is presented in Fig. 1 and the load -displacement plot is shown in Fig.2. It is evident from the load-deformation plot that at the initial part, relationship is linear. The stress at different zones are different and is an expected one for typical nature of such fibrous composites. Experimental verification (Fig. 3) is under process (for COVID 19 issue) and expected to be presented in full paper.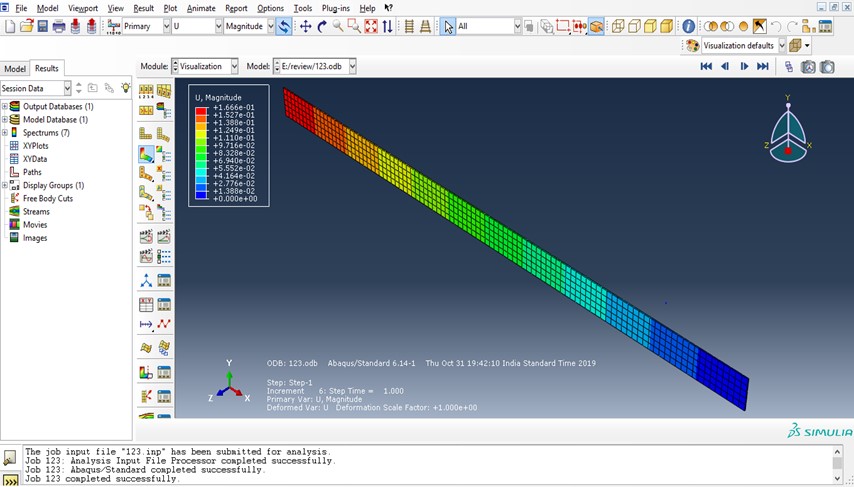 Fig. 1 Displacement profile
Fig. 2 Load displacement plot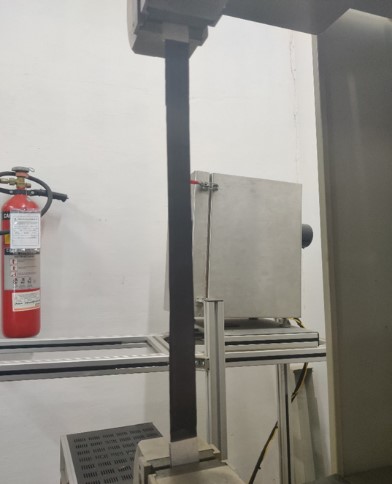 Fig. 3 Experimental setup
Keywords: Carbon-prepreg-tape, epoxy resin, Unidirectional fiber, fixed-free, numerical-experimental,
---